Laser Therapy in Van Buren
MLS Laser Therapy is quickly becoming the standard of care in alleviating both acute and chronic pain in Van Buren. This patented, FDA-cleared technology has an 85% – 90% efficacy rate in relieving pain and inflammation, eliminates risk from surgery and prescription pain killers, has no negative side effects, and restores patients' lives, PAIN-FREE!
---
WHAT IS MLS in Van Buren
How do you know when something is wrong with your body?
Most people will answer that question with one word... PAIN!
If the pain disappeared, why take drugs or have surgery?
Most would answer... We wouldn't!
MLS Laser Therapy is brought to us all the way from Italy by ASA Lasers Research Technologies. Since 1983, ASA Laser has become the international landmark in laser therapy and magnetotherapy for clinical use, serving over 3500 clinics worldwide.
Although low-level light therapy (LLLT) was discovered over 60 years ago, with virtually no negative side effects, it is fairly new to the United States. Its' benefits have been proven through research and clinical settings abroad for decades for endless amounts of conditions such as neuro-musculoskeletal problems, brain degeneration like dementia and Parkinson's, organ disease, and traumatic spinal cord injuries.
When Laser light is emitted into the body, the energy is absorbed into the target tissue and distributed by the bloodstream and lymphatic system. This causes the body to pump out inflammation-causing a reduction in pain almost immediately. But that's not the end of the story... Laser light continues after treatment to speed up the healing process in damaged areas that are not healing on their own. It's like adding an extra energy source from the outside, much like the sun helps plants grow and thrive. It's not just about feeling better... It's about getting better!
MLS Laser Therapy is NOT cold laser but is in a class of its own. Our doctors started using cold laser therapy shortly after it was first FDA-approved in 2002, making us one of the first and most experienced providers of light therapy in the United States. Even though the benefits were unbelievable, low-power cold laser units were very limited in what they could treat due to the low power output and small head size. MLS Laser Therapy is a Class IV, FDA-cleared, high-powered laser with the capability to penetrate inches deep, targeting the tissues that are causing pain.
MLS Laser Therapy patented technology uses a high-powered robotic laser head and multiple wavelengths to deliver large amounts of light energy to large areas in a very short time frame. Healing from the speed of light.
It's not a Magic Trick...... It's a Healing Trick!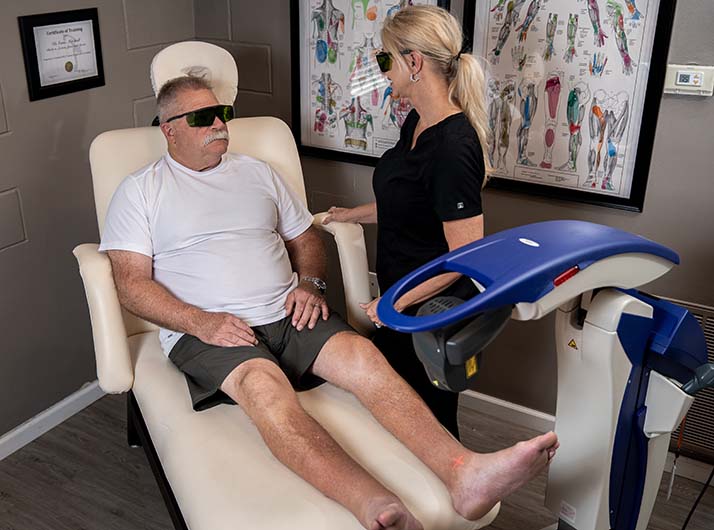 We knew there were more choices to overcoming health ailments other than drugs and surgery. We are honored to be the first in Van Buren to offer MLS Laser Therapy... The light wave of the future in Pain Management.
---
MLS LASER THERAPY......... There's hope for true healing. Let us show you how. Call today (479) 474-7246
OFFICE HOURS
---
Monday
8:00am - 1:00pm
3:00pm - 6:00pm
---
Tuesday
8:00am - 1:00pm
3:00pm - 6:00pm
---
Wednesday
8:00am - 1:00pm
3:00pm - 6:00pm
---
Thursday
8:00am - 1:00pm
3:00pm - 6:00pm
---
Friday
8:00am - 1:00pm
3:00pm - 6:00pm-
by appointment only
---
Saturday
by appointment only
---
Sunday
Closed