Frequently Asked Questions in Van Buren
Here are the answers to the most commonly asked questions about Laser Therapy. Knowing the answers to these important questions will help you pick the best laser technician in Van Buren for you. If we didn't cover a question you may have, give Back In Action Spine & Sports Injury Clinic a call at (479) 474-7246 and we will be more than happy to help answer your question.
Laser Therapy is the use of specific wavelengths of light to treat painful and debilitating conditions.
Light energy enters the damaged cells and stimulates inter-cellular activity. This reduces pain in the area and speeds the recovery of the damaged cells. Once the cells recover, the healing process is complete.
MLS stands for Multi-wave Lock System. MLS is the name of the technology used that utilizes the patented combination of two wavelengths.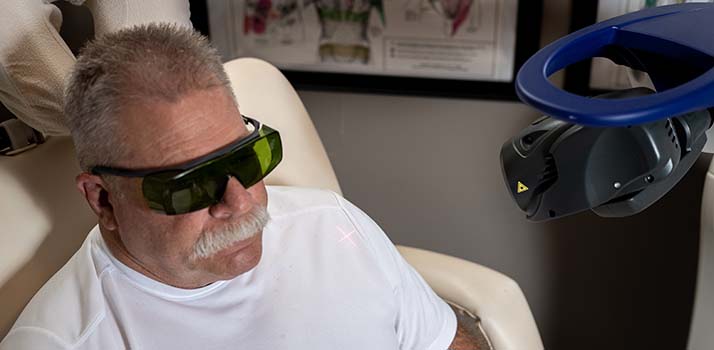 MLS Laser Therapy uses two wavelengths to overcome the limits of traditional Laser Therapy. Traditional Laser therapy does not deliver both wavelengths in a reinforcing and synchronized fashion. Continuous laser emissions act fast on inflammation, stimulating blood and lymphatic circulation and inducing fast re-absorption of fluid build-ups; however, they only have a secondary effect on pain, which is diminished after reducing the inflammatory process. Pulsed laser emissions, on the other hand, have a practically immediate effect on pain, since they are able to induce analgesia, interfering with the very transmission of the pain impulse to the higher brain centers, but they are less effective at treating inflammation and edema.
MLS Therapy is used for pain relief, reduction of inflammation and edema and creating healing in damaged tissues.
MLS Laser Therapy is able to induce strong anti-inflammatory, anti-edema, and analgesic effects simultaneously and within a short period of time. LLLT cannot achieve these results because of the limitations of using one or two wavelengths that are not synchronized. The patented control system that generates the MLS pulse synchronizes the emissions to achieve results previously unattainable. Thanks to this characteristic synchronization, the various therapeutic effects not only take place at the same time but reciprocally reinforce each other.
The depth of penetration varies due to tissue type, but it will penetrate inches deep with very few tissues being unable to be reached.
It does not require the use of drugs or surgery, there are no known side effects, and it is quick/convenient. Studies have shown that it is equal to or more effective than other forms of physical therapy. These studies were performed at many prestigious institutions including Harvard University.
The typical course of treatment is 10 to 15 minutes, depending on the size of the area being treated. Treatments are typically received 2 to 3 times a week. Treatment plans are determined on an individual basis.
There is little or no sensation during treatment. There is no pain associated with laser application. Laser treatment is relaxing and some people even fall asleep.
This depends on the nature of the condition being treated. The typical treatment protocol for new acute conditions is between 6 and 12 visits. Conditions such as severe arthritis will require more and possibly ongoing periodic care to achieve optimal healing and long-term pain control.
You may feel improvement in your condition, usually pain reduction and increased mobility after the 1 to 3 treatments. For more chronic conditions it may take up to 6 visits to feel the benefits of MLS therapy. Although it is a very small percentage, not everyone responds to laser therapy and the results are not guaranteed.
Yes, laser therapy is a light treatment. No heating is involved with the surgical or metal implants. It can be used safely with no negative side effects. It is extremely effective for post-operative wound healing. Many hip and knee replacement patients see us for care.
Rapid relief of pain without the use of addictive prescription painkillers
Strong anti-inflammatory effect
Non-surgical treatment
No negative side effects
Timely healing of sprains & strains
Rapid recovery of the structural integrity of the injured region
Rapid resolution of swollen areas
Immediate improvement of local blood circulation
Rapid repair of superficial injuries, such as wounds ​and ulcers
Watch Dr. White Explains the Benefits of MLS Laser Therapy To Learn More
Most people experience positive results in 1 to 3 treatments, however, in severe, chronic conditions it could take 6-12 sessions before realizing improvements. Swelling is greatly reduced and there is a rapid relief of pain. Acute conditions usually subside quickly, typically within one phase of treatments, while chronic conditions will take longer to reach optimal healing and may be controlled with regular treatments. The effects of MLS Laser Therapy are cumulative; therefore, expect to see improvement as you proceed through your treatment plan. It is critical that once you start, you complete the course of treatments recommended by your doctor or symptoms are likely to reoccur.
MLS Laser Therapy is about healing. It's not about masking or covering up a condition. When you feel better from this therapy... it's because you are better. The results have been found to be quite long-lasting, however, just like everything in life, we are constantly wearing and tearing our bodies, so maintenance treatments may be a wise choice.
Yes, MLS Laser Therapy is sometimes more effective when combined with other forms of therapy, including physical therapy, chiropractic, massage, soft tissue mobilization, electrotherapy, as well as, before and following surgery.
We will evaluate your condition and perform a complete laser therapy examination to determine if you are a candidate for this procedure. Call us to schedule a consultation and/or evaluation with one of our doctors. Consultations are always at no cost to the patient.
Health Insurance does not currently cover the cost of MLS Therapy but may cover many other services in our office. Auto Insurance companies have covered the cost for many of our patients involved in motor vehicle accidents. Health Savings Accounts and Cafeteria Plans have covered treatments with a letter of medical necessity. MLS Laser Therapy is extremely affordable especially considering what you will gain when the pain is gone and you can return to doing the things you love.
OFFICE HOURS
---
Monday
8:00am - 1:00pm
3:00pm - 6:00pm
---
Tuesday
8:00am - 1:00pm
3:00pm - 6:00pm
---
Wednesday
8:00am - 1:00pm
3:00pm - 6:00pm
---
Thursday
8:00am - 1:00pm
3:00pm - 6:00pm
---
Friday
8:00am - 1:00pm
3:00pm - 6:00pm-
by appointment only
---
Saturday
by appointment only
---
Sunday
Closed